Gingerbread Cookies
White Chocolate topped Gingerbread Cookies
3 cups flour
2 tsp. Ginger, Ground
1 tsp. Cinnamon, Ground
1 tsp. baking soda
1/4 tsp. Nutmeg, Ground (I used fresh)
1/4 tap salt
3/4 cup (1 1/2 sticks) unsalted butter, at room temperature
3/4 cup firmly packed brown sugar
1/2 cup molasses
1 egg
1/4 cup granulated sugar
1 tsp. Vanilla Extract
1 cup white chocolate chips
Mix flour, ginger, cinnamon, baking soda, nutmeg and salt in large bowl.
Beat butter and brown sugar in large bowl with electric mixer on medium speed until light and fluffy.
Add molasses, egg and vanilla; beat well. Gradually beat in flour mixture on low speed until well mixed. Press dough into a thick flat disk. Wrap in plastic wrap. Refrigerate 4 hours or overnight.
Preheat oven to 350°F. Shape dough into 1-inch balls. Roll in granulated sugar. Place 2 inches apart on ungreased baking sheets.
Bake 8 to 10 minutes or until edges of cookies just begin to brown. Immediately press about 5-6 white chocolate chips into center of each cookie. Remove to wire racks; cool completely. Store cookies in airtight container up to 5 days.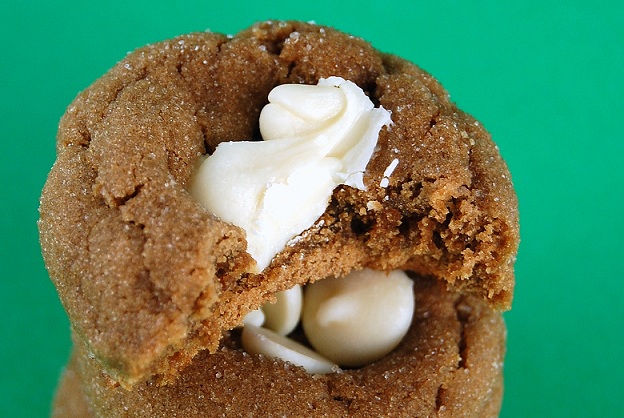 THESE LOOK AMAZING... I've seriously been craving gingerbread cookies, so I hope these do the trick
Hello We are SeoBloggerTemplates, Our name came from the fact that we are best. We specialize in designing premium looking fully customizable highly responsive blogger templates.